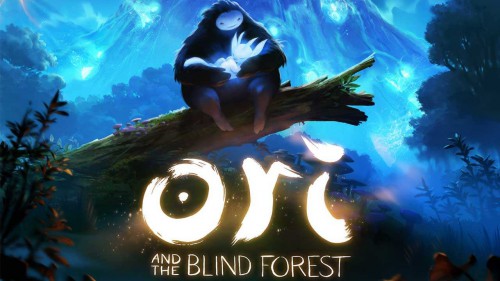 Présenté pour la première fois pendant la conférence Microsoft, Ori and the Blind Forest a marqué la salle par son design léché et son ambiance poétique. J'ai pu rencontrer ses auteurs, la petite équipe de Moon Studios. Voici mes impressions…
Disney (et surtout Le Roi Lion) ou les productions Ghibli, voilà les référence que Moon Studio met en avant pour présenter Ori and the Blind Forest. Avouez que cela mettrait l'eau à la bouche à plus d'un fan d'univers poétique. Et il faut bien reconnaitre que l'univers d'Ori est très réussi. Sur son scénario, on n'en saura malheureusement pas beaucoup plus mais la petite équipe (8 personnes) de Moon Studio travaille depuis 4 ans pour nous fignoler un jeu à l'ambiance unique.
La réalisation semble, elle aussi, totalement maitrisée avec du 1080p à 60 images/seconde et une fluidité quasi parfaite. Le gameplay se montre assez classique, dans la droite lignée des Metroid, donc un jeu de plateforme/exploration teintée d'une grosse couche d'action. De leur aveu même, Moon Studio ne veut pas révolutionner le genre Metroid mais le pousser dans ses limites, le rendre juste parfait.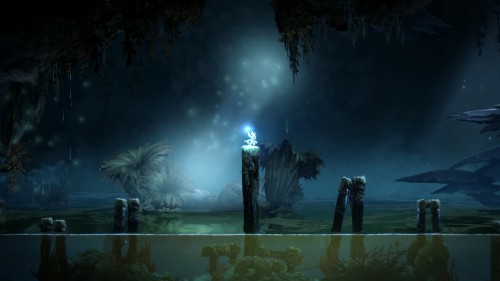 Visuellement, le jeu est de toute beauté mais les mécaniques de jeu se montrent peu originales. Au fur et à mesure de notre progression, on débloque de nouvelles capacités : double saut, marcher sur les murs, meilleure attaque, … ce qui débloque de nouvelles possibilités d'exploration des niveaux.
Autre nouveauté, on peut placer un point de sauvegarde n'importe où. Il est donc possible de gérer soi-même sa progression et de prendre une petite assurance avant un passage un peu délicat. Tout cela pour une durée de vie annoncée d'une dizaine d'heures.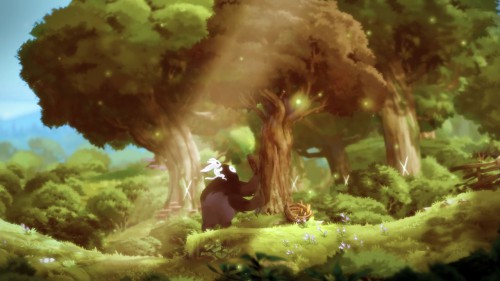 Manette en main, le feeling est en effet excellent. Ori réagit au pixel près et la fluidité de l'animation offre un confort rarement atteint dans un jeu de plate-forme. Il reste maintenant à découvrir si le scénario sera aussi profond et poétique qu'on veut bien nous le faire croire car si le gameplay et la réalisation se montrent déjà aujourd'hui impeccable, on ne peut pas dire que le jeu brille par son originalité. Mais il y a tellement de passion qui émane de ce jeu et de la bouche des développeurs que je pense que l'on peut leur faire confiance pour nous concocter une petite pépite.
Ori and the Blind Forest sera disponible d'ici fin 2014 sur Xbox One et un peu plus tard sur Xbox 360 et PC.